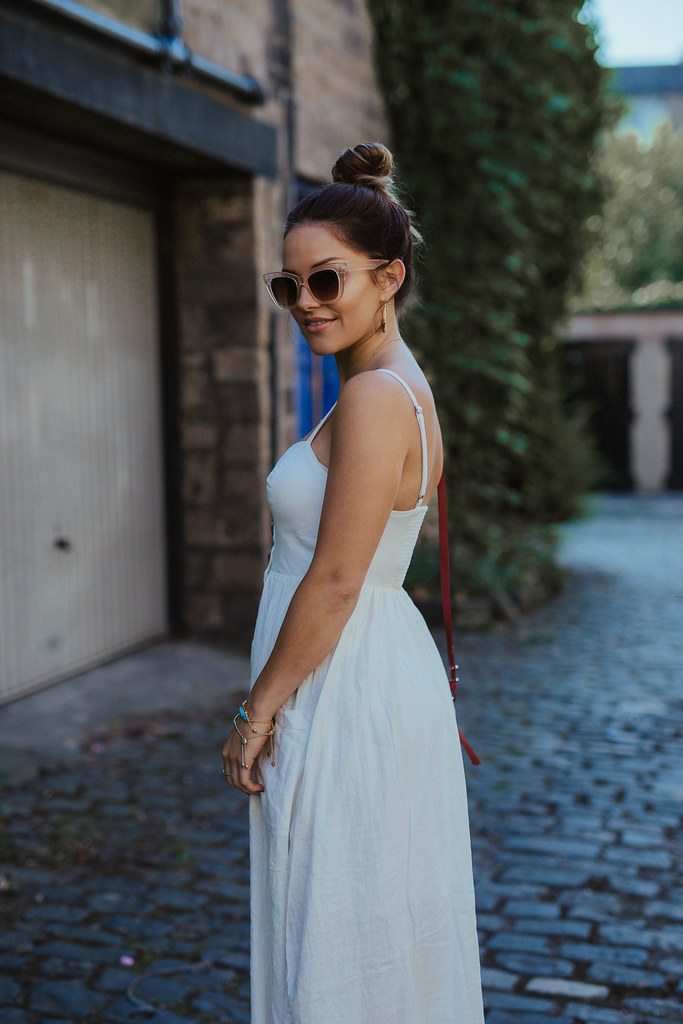 Hello there! I've made so many typos and had so many urges to nap today that I was almost positive it was Friday but... nope. Halfway there, people. These were shot in the lovely Edinburger but, believe it not, we do actually have some sun in Glasgow today. The weather's been crazy this week; I had a wooly had on on Monday (I kid you not) and I've even heard rumours of people having their heating on (ok that was also me, but I promise other people have to). In July! Truly terrible times indeed.

Anyway, back to the summery dress. I spotted it in Urban Outfitters and thought, 'oh hello. I have a voucher, you look wonderful... This couldn't be more perfect'. It comes in so, so many different prints and colours - which I'll link below for you - but I really loved the simplicity of the white so that's the one I went for. Will I go back in for more? That's possible, yes. I popped it on with my Topshop espadrilles to complete the summery look and my little Reiss burgundy bag.
And with that, my friends, I shall bid thee adieu. I have some sun outside waiting for me and I have a feeling it's not going to hang around for long.
Oh my goodness, also (that goodbye didn't last for long did it?) thank you so, so much for all your lovely feedback on my last two posts, especially the swimwear one. It's a nerve-wracking thing putting your butt out there for the internet to see - and it also took me bleedin' ages to put together - so it's the best feeling in the world to read a lovely comment that someone's taken the time to write. Even if it was just Iain597 from Doncaster saying 'nice ass'. I'm kidding, that didn't happen.
Amy
Shop the post: